Skybridge construction takes to skies in latest milestone
Construction of the Skybridge connecting Perth Airport's Terminal 1 to Airport Central Station has reached a key milestone, with crane lifts of major components now underway.
Construction of $31 million bridge linking METRONET to Perth Airport underway
280 metre enclosed walkway from Airport Central Station to Terminal 1
TBM Sandy soon to break through at Redcliffe Station, TBM Grace en route to Bayswater
Approximately 800 workers currently employed on Forrestfield-Airport Link project and 70 workers employed on Skybridge site
The $31 million modular bridge will be installed in sections, with crane lifts required to hoist the 12 main components into place.
When all lifts are completed, expected by late July, work will begin on the Skybridge's internal and external fit-out.

Construction of Airport Central Station is well advanced, with the recent installation of the southern hemisphere's longest single-span uninterrupted escalator – a 15 metre-high, 35 metre-long triple escalator which will have the capacity to transport 8,200 passengers an hour.
At platform level, concrete has been cast to form the walls on both sides of the platform, with above-ground features such as the station's roof and walls to soon start taking shape.
Since leaving Airport Central Station in mid-2018, both TBM Grace and TBM Sandy have tunnelled under the operating airport runways, cleared the halfway point of their underground journey and installed more than 1,640 rings each.
Grace has now left the Redcliffe Station box and is completing the final stage of her underground journey, the 2.6 kilometre trip to Bayswater.
Sandy is expected to break through into Redcliffe Station in coming days, and will spend about a month in the box undergoing routine maintenance and replacement of a screw conveyor.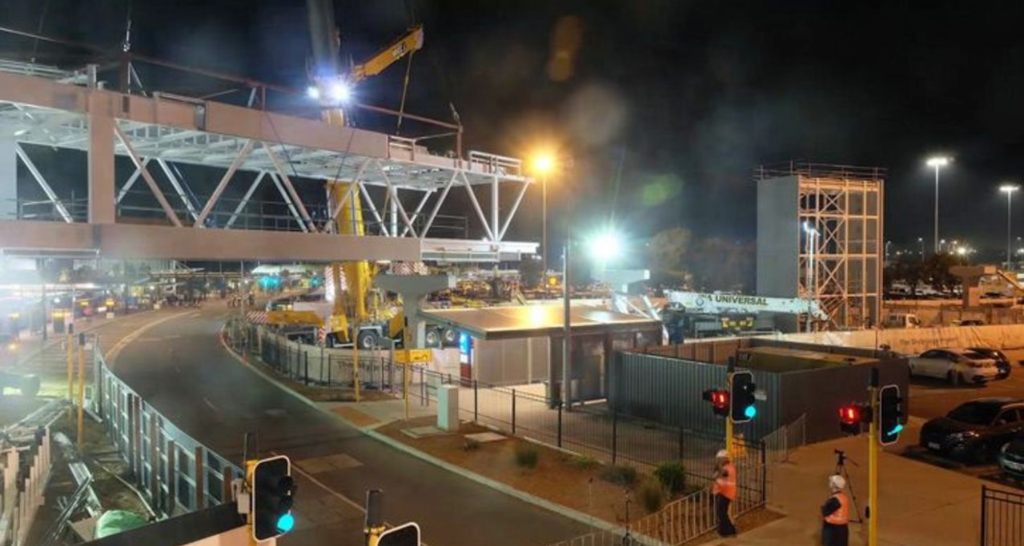 As stated by Premier Mark McGowan:
"The Forrestfield-Airport Link is an important part of METRONET and will transform the way thousands of Western Australians and travellers access Perth Airport, the CBD and the eastern foothills.
When the Forrestfield-Airport Link opens in late 2021, the fully-enclosed walkway will provide a comfortable sheltered link from the station to Terminal 1, with access to Terminal 2.
The project is being delivered by Georgiou Group, jointly funded by the State Government and Perth Airport.
"About 2,000 jobs have been created on this project alone, with more than 800 people currently employed, and 70 jobs created as part of the Skybridge project.
"My Government's focus is to deliver congestion-busting and job-creating projects, and this Skybridge is another terrific example of us getting on with the job. It provides a crucial link and complements our METRONET plans, and I'm pleased to see it underway and progressing to plan."
As stated by Transport Minister Rita Saffioti:
"The experience people have when connecting from the airport to the station is very important. This bridge will enable convenient, comfortable and efficient links between the station and Terminals 1 and 2.
"Progress on construction of the Forrestfield-Airport Link is well underway, with TBM Grace now en route to Bayswater, and TBM Sandy is expected to break through into the Redcliffe Station box in the next week.
"At completion of this project, public transport access to Perth Airport will be comparable to other major tourism destinations across the globe that provide visitors with cost-effective and simple access between the city and airport."
"For more than 40 years, Perth Airport has been working towards the consolidation of commercial air services to the airport central location. This will deliver Western Australia the maximum benefit from the Government's multibillion dollar investments in road and rail projects made in recent years.
"The development of Airport Central Station and its link to the terminals via the Skybridge will provide a seamless passenger experience to our terminals and will link the central airport precinct with the new rail line.
"We will be looking at opportunities to create a 'sense of place' in the Skybridge walkway which will offer visitors a great welcome to Western Australia.
"Over the next 10 years Perth Airport is planning to spend up to $2.5 billion building new facilities, including an expanded international terminal, construction of a new domestic terminal, and planning for a new runway, to ensure Western Australia's airport is future-proofed.
"Perth Airport's focus is on providing an efficient and modern airport that will provide the level of service and facilities that Western Australia deserves to have as Australia's western hub well into the future."
Source: Mirage News - https://www.miragenews.com/skybridge-construction-takes-to-skies-in-latest-milestone/